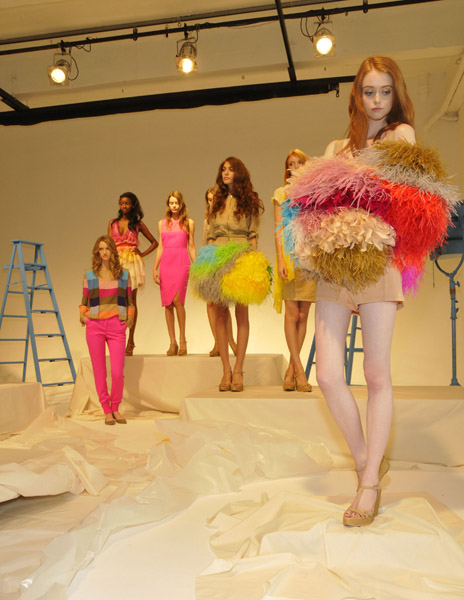 Before I delve into the ocean of homework awaiting me, I wanted to share information from the panel I attended this evening. The panel
convo
consisting of designer Chris Benz and his entourage (muse and business posse) was another event for SCAD Style.
miliar with Benz, he is the 2004
CFDA
Emerging Design Award recipient, a Parsons alum, and an ex-J.Crew designer (dresses and special occasion). Now with his own successful label, he came to Savannah to give advise to a few of us wide-eyed fashion kids.
Most of the discussion covered the details of how he personally got to where he is. He met his business partner at Parsons where he started at the ripe young age of 16, interned at Marc Jacobs at 17 (thanks to a friend who recommended him), and the l
uck just kept going from there. I'm not saying that his career happened just out of luck. He's clearly talented (
check out his latest collection
), but sometimes it just seems so fantastical when you're the one sitting in the plastic chair in the audience.
The best part of the
convo
came when the designer's muse, actress Eva
Amurri
, gave her advice on how to make it in the fashion industry. "You need to be skinny...or gay...or both." Of course, that was followed by a "just kidding," but she sure hit the stereotypical nail on the head. She also shared the fact that she
internet
stalked Benz before meeting him, developed a crush on him, and then met the man. Yeah...
There was also plenty of talk about the business end of the label, an
d they didn't make it seem all cupcakes and butterflies. Benz and his gang told us that it's a lot of hard work and more of the work is in marketing yourself and your collections--not just designing. Instead of hearing the same horror stories about how horrible the fashion industry is, the designer added that the business is "still glamorous." The continuous
slideshow
of
photoshoots
, celebrities, and red carpet events in the back weren't evidence enough for me. ;)
*PS: I loved his sketches: